Meet Our Family
Tony & Brittany Huey

Tony grew up in Palm Beach Gardens, Florida, where both sets of his grandparents owned restaurants. He graduated from Florida State University with a degree in Business Management. Since graduating, Tony has lived in Las Vegas, Nevada; Vail, Colorado; Anchorage, Alaska; and Lubbock, Texas working in hospitality and medical sales. Growing up in an Asian-American household and during his travels, Tony found a love for many types of cuisines and cultures, and he wants to share that love with his community via a family-owned truffle farm.
Brittany was born and raised in Centreville, Alabama, where farming runs deep in her blood. She graduated from Texas Tech University with a degree in Psychology. Brittany's true passion is for helping others to realize their full potential and helping her community. Brittany has a lifelong dream of providing her daughter, Lily, with the same farm lifestyle she was accustomed to in childhood. 
Together their common interests, of amazing cuisine and the country lifestyle led them to North Carolina to start a truffle farm and cultivate truffles with their best friends. Tony, Brittany, and Lily have a 13-year-old American Pitbull Terrier, Ally, an Exotic Shorthair, Smushy, and a 55-gallon freshwater aquarium. Some of their interests and hobbies include, attending sporting events, going to the beach, playing board games, doing arts and crafts, and enjoying the outdoors.
Joshua Esnard & Jamie Blank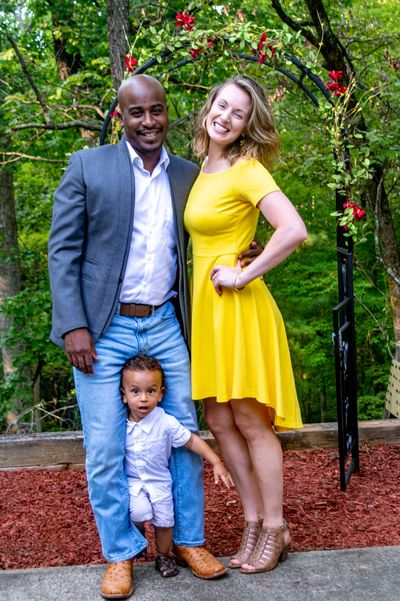 Joshua was born in Saint Lucia. His parents moved to the United States in search of the American Dream. A child of plant pathology/microbiology and urban/regional planning professors (father and mother respectively), Joshua has been around fungi and land development his entire life. Joshua is a winning contestant from ABC's Shark Tank. His patents have been featured in Forbes, National Public Radio (NPR), GQ, and more. Joshua now spends much of his time inventing, mentoring and lecturing at University of North Carolina and Duke University.
Jamie was born and raised in Upstate New York in a small, woodsy town, Ithaca. With her love for travel, Jamie obtained a degree in Hospitality Management. Jamie later pursued a Physical Therapist Assistant degree to fulfill her passion of helping others. She also maintains a real estate license with which she is able to assist others in finding their dream homes.
Joshua and Jamie met in high school gym class, and remained friends for many years. When Joshua graduated from Florida State University, the two reconnected in South Florida. On their first date, they discovered truffles after ordering fries with white truffle oil. After doing research, they decided North Carolina would be the perfect place to raise a family and start a family business, a truffle farm. They enjoy traveling the world with their son, Phoenix.
Mickey & Lizzie Mitchell
Mickey was born in the Bronx and moved to Long Beach by the age of 5. After attending college, he found he was better working with his hands and learned multiple trades. Eventually Mickey made his way into Local 94, Operating Engineers union, and he works with high pressure steam boilers and turbines in a power plant in Brooklyn. Over the years, he has found a passion for gardening and growing his own food, both outdoors in the garden and by using hydroponics indoors.
Lizzie was born and raised in Long Beach, New York. She grew up riding her bike and swimming in the ocean. She graduated from Molloy College with a Bachelors in Communication Arts. After graduation, Lizzie decided to become certified as a yoga instructor. After being in the rat race of New York City, as a Post Producer for film and documentaries, she decided her time was better suited as a stay at home mama, and returned back to her true passion of instructing yoga. 
Together Mickey and Lizzie always discussed having a farm. They would love to get away from the city life and expand their awesome veggie gardens, as well as raise ducks and chickens, and lead a simpler life. Mickey and Lizzie started a composting business out of their own backyard. Josh and Jamie brought them the opportunity of starting a truffle farm and making their dreams a reality. Mickey and Lizzie split time between New York and North Carolina, and they are excited about growing truffles and showing their son Luke a different type of life, closer to nature.